YAESU Automatic Tape Dispenser ZCUT-9GR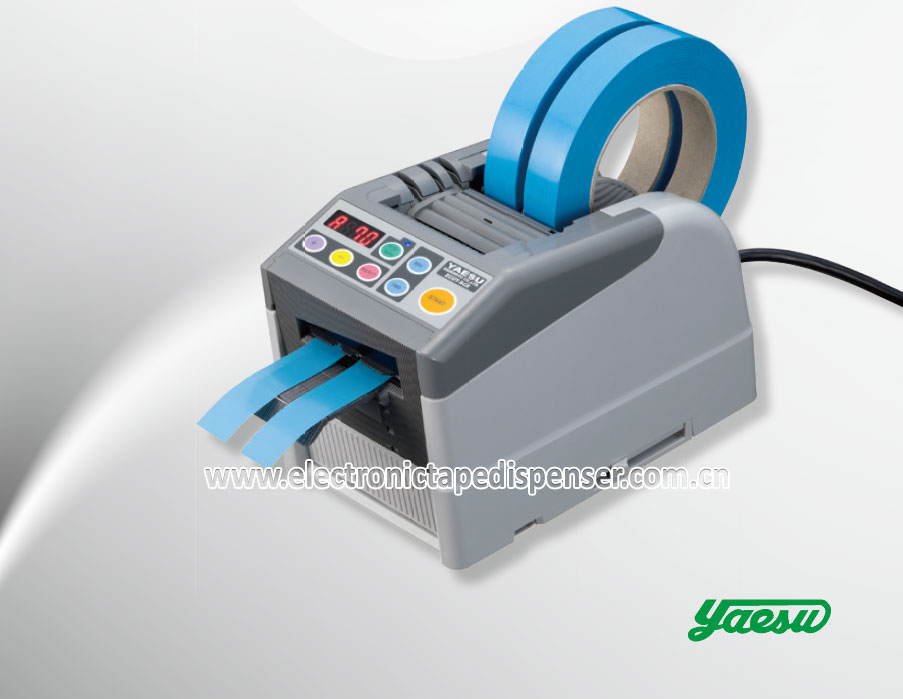 Featuru
* Safety function and design for finger
* Memory function enable set six different length before use.(for example: 50-60- 70-80-90-100mm, repeat cutting)
* Can setting the number of tape cutting decreasing.
* Any size of tapes fit without bobbins and Max Outside Diameter is 300mm
* Enable to cut Protection Film, Copper Foil, Aluminum Foil, Insulation material and more.
* Enable to hold the film or tape by using Flexible Tape Support.
* Preset and Loop counter functions.
* Compact body answers to Cell-System.
* Enable to use 2 rolls at the same time.
* Dual Photo Sensor.
* Build-in Tweezers, Oil, and Separator.
* Engineer can successfully remove the roller unit, without the tools.
Specifications:
* Cut Length:5 – 999 mm
* Tape Width:6 – 60 mm
* Usable Tape:Filament, Strong, Acetate Cloth, Glass Cloth, Double-Sided, Normex, Pre-stick, Cellophane, Craft, Masking, Plastic, and more.
* Tape Thickness:0.05-0.3mm
* Usable Non Adhesive Material:Protection Film, Paper Tape, Insulation Film, Aluminum Foil, Copper Foil etc.
* Feeding Speed:200 mm/ sec 50pcs/min (when cut Craft Tape)
* Max Outside Diameter:300 mm
* Accessories:Power Cord, 2A Fuse (Built-In Inlet), Separator, Guide Plate, Tweezers, Blade Oil.
* Body Material:Anti-Static ABS
* Power Requirements:AC100V 50/60Hz 25W
* Dimensions:116 mm(W)x140 mm(L)x213 mm(H)
* Weight:1.6kg
Notice
* Some of usable tapes may not cut depends on material/tape manufacturer.
* The length of tape might be have an error depends on types of tape.
* Specification are subject to change without prior notice.