YAESU Automatic Tape Dispenser ZCUT-9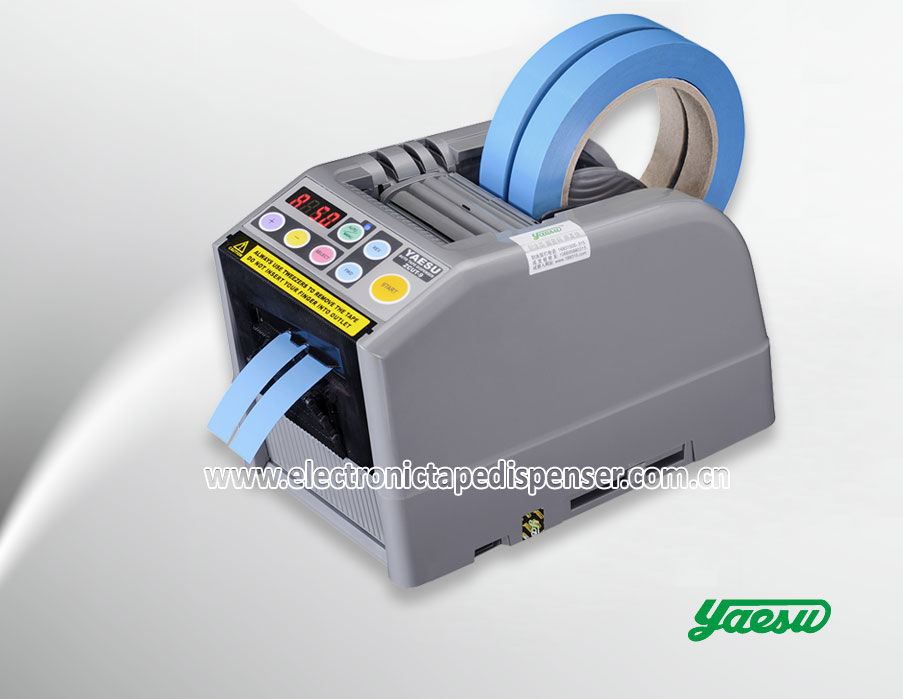 Specifications
* Tape Width: 6-60mm
* Tape Length : 5-999mm
* Tape Types: 100+ types of tapes, including Acetate/Glass Cloth, Double-Sided, Normex, Filament, Kapton, Pre-stick, Cellophane, Craft, Masking, Plastic, etc.
* Usable Non Adhesive Material: Protection Film, Insulation Film, Aluminum/Copper Foil, Paper Tape, Tube, Plastic Band, Magic Tape, ribbon, etc.
* Feeding Speed: 200 mm /sec.
* Max. Outside Dia. of Roll: 300mm
* Accessories: Power Cord, 2A Fuse(Built-in Inlet), Separator (for two rolls), Guide Plate, Tweezers, Blade Oil.
* Power Requirement: 220-240V, 120V, 100V
* Body Material: Anti-Static ABS
* Dimensions & Weight: 116(W) x 140(H) x 213(D) mm 1.6Kg
* Application: Food, Beverage, Commodity, Medical, Chemical, Machinery & Hardware, Apparel, Automotives, Electric & Electronics, etc.
Unique Features
* Max. 6 different lengths can be preset before use.
* Any size of tapes fit without bobbins.
* Cut length from 5mm to 999mm.
* Safety function and design.
* Memory function enables this auto tape dispenser memorizing six different length preset before use.
* Able to cut non-adhesive and double side tapes, Protection Film, Copper Foil, Aluminum Foil, Insulation * * material and more.
* Enable to hold the film or tape by using Flexible Tape Support.
* Preset and Loop counter functions.
* Compact body answers to Cell-System.
* Enable to use 2 rolls at the same time.
* Dual Photo Sensor.
* Build-in Tweezers, Oil, and Separator.
* Cutting Accuracy: +/-1mm
* CE certification.
Notice
* Some of usable tapes may not cut depends on material/tape manufacturer.
* The length of tape might be have an error depends on types of tape.
* Specification are subject to change without prior notice.